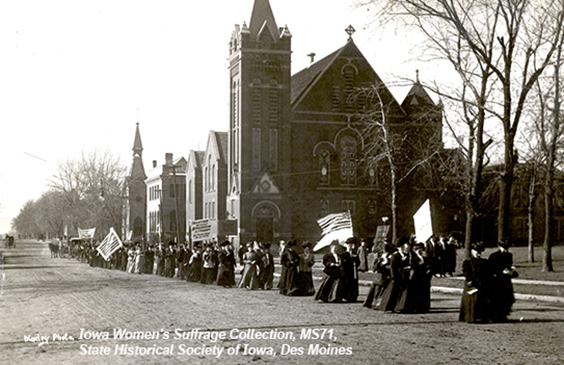 As you travel along the Lincoln Highway National Heritage Byway you'll find many cultural and historic points of interest — including a retracing of footsteps taken by many responsible for pioneering women's suffrage in Iowa. This March, we commemorate Iowa History and Women's History month, let's take a look at a couple of related stories.
A historic milestone during the decades-long fight to win the right to vote for women in the United States took place in the Lincoln Highway community of Boone, Iowa over 100 years ago. At 11:45 a.m. on the morning of October 29, 1908, more than one hundred women gathered at the corner of 7th and Carroll, hoisted their banners, and began to march towards downtown in support of women's suffrage.
Championing the ensuing parade was a car transporting the then National Women Suffrage Association President Dr. Anna Howard Shaw.
When the marchers reached the intersection of 8th and Story, the crowd paused to allow Shaw to speak. The Woman's Standard newspaper reported that Shaw "…held the breathless attention of her hearers, wit, humor, pathos, sentiment and clear, hard logic from one to the other she passed, naturally, entirely without self-consciousness, with the greatest sincerity of manner and at time with much dramatic fire."
At the site today you'll find a monument in honor of that 1908 parade that was organized by Boone Equality Club President Rowena Edson Stevens and former Iowa Equal Suffrage President Rev. Eleanor Elizabeth Gordon. Be sure to stop at this location, stand in these women's footsteps, imagine, be inspired, and immerse yourself in their bravery and sacrifice.
At the top of Oakland Avenue and Lafayette along the Byway corridor in Council Bluffs, you'll find Fairview Cemetery, the resting place of Mormon pioneers, Mrs. Caroline Pace who rode the first locomotive to come to Council Bluffs, and Amelia Jenks Bloomer a social reformer, temperance activist, suffragist and one-time editor of The Lilly, the first newspaper by and for women, which became a model for women's suffrage publications thereafter.
The Bloomer family settled in Council Bluffs in 1855 where Amelia continued her activism and was Iowa's first resident to speak publicly for women's suffrage. She started the Soldiers' Aid Society of Council Bluffs to assist Union soldiers and served as president of the Iowa Suffrage Association from 1871-1873.
Though she became the namesake, the late Victorian era fashion of "Bloomers" inspired by Turkish pantaloons did not begin with Amelia, but in the Lilly, she advocated for their wearing. Soon they became a symbol of the women's rights movement, freedom, and feminist reform.
The next time you're traveling the western edge of the Lincoln Highway in Iowa be sure to visit Council Buff's Fairview Cemetery and pay respect to the American women's movement pioneer Amelia Jenks Bloomer.