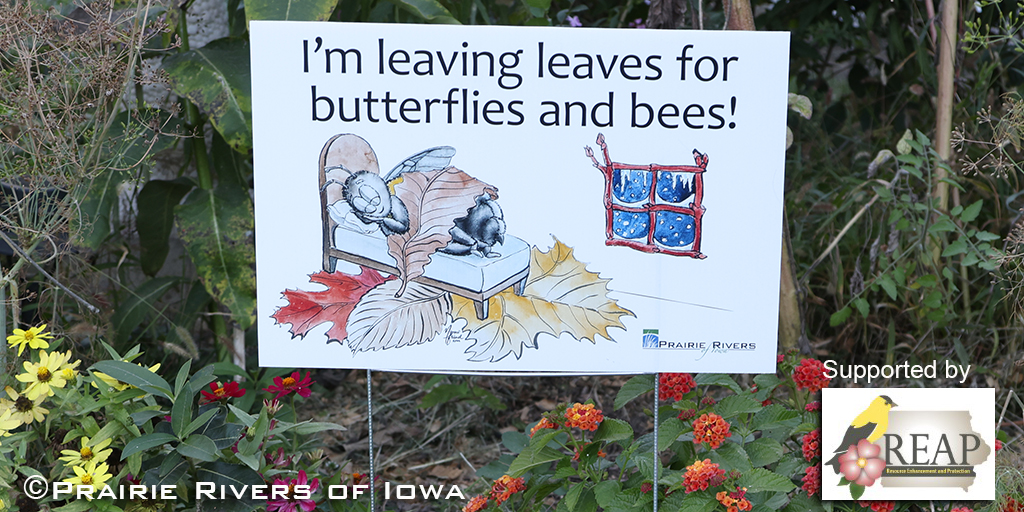 How can homeowners in Ames be encouraged to increase pollinator-friendly practices in their yards? That was the question addressed by former Prairie Rivers of Iowa Lincoln Highway National Heritage Byway Coordinator Shellie Orngard in a recently completed pilot project using Community Based Social Marketing strategies. Now that the pilot is completed, the project will move forward in 2023 to explore ways to apply what was learned to increase pollinator habitat along Iowa's Lincoln Highway National Heritage Byway.
Community Based Social Marketing was developed by Canadian psychology professor Doug McKenzie-Moher, author of Fostering Sustainable Behavior. It is used in developing and implementing community programs that make use of scientific knowledge of human behavior in effecting change. Community programs such as composting and conserving water and energy have used it to increase participation.
According to the Iowa Department of Natural Resources, 70 to 80 percent of Iowa was once covered by prairie, producing rich agricultural soil and a lush environment for pollinators. Now, with 90 percent of Iowa's land in agricultural production, less than one percent of Iowa's prairie remains, simultaneously reducing pollinator habitat. "Doing this project I learned strategies to encourage pollinator-friendly practices that can be employed along Iowa's byways," says Orngard. "We are now exploring applying these strategies to make the Lincoln Highway National Heritage Byway a pollinator-friendly byway from the Mississippi to the Missouri Rivers. Some of Iowa's other 13 byways have also expressed interest."
While a number of groups (including Prairie Rivers) have focused on encouraging farmers, other large landowners, and local governments to improve pollinator habitat, this project will also include urban areas, businesses, and homeowners.
An initial survey was conducted to determine the perceived barriers and benefits of creating a pollinator garden. The results show that homeowners can face some big barriers such as knowing what types of plants to grow that provide diverse and useful habitat during all seasons. Additionally, by implementing pollinator-friendly practices, homeowners may, in some cases, go against societal norms of having a yard consisting primarily of well-groomed turf.
This project focused on strategies to encourage a paradigm shift in what landowners consider desirable, resulting in such practices as reducing pesticide and herbicide use, letting grass grow longer before mowing, and leaving leaves for overwintering insects.
To encourage year-round pollinator-friendly practices, Orngard worked with Xerces Society Farm Bill Pollinator Conservation Planner/NRCS Partner Biologist Sarah Nizzi to create The Pollinator Friendly Yard: A Seasonal Guide informational flyer. Homeowners were asked to commit to increasing their pollinator-friendly practices according to their comfort level.
As a final strategy, Orngard worked with local artist Naomi Friend to create a charming yard sign homeowners can use to educate passersby about why some leaves are being left to provide habitat for overwintering insects.
Shellie Orngard also contributed to the content of this article.